Whew...this has been an incredibly busy week here at Alpha & Omega Interiors. We have several new design programs "in the works" that we hope to announce in the very near future...right here on our blog! In working on our client projects this week we have seen SO many new and wonderful pieces of furniture, stunning new fabrics, gorgeous artwork....and the list goes "on and on". I can certainly understand why so many of our clients tell us "the less choices, the better". I certainly do see how it can be extremely confusing for most people to try and decide exactly which pieces they like the best AND which ones will all work together. So, in saying all of this...today will be just a conglomerate of many things!
Here is a new sofa introduction from one the furniture lines we carry, Lee Industries (see entire collection at Leeindustries.com). I love the "white" (available in many other fabric options as well) because then you are able to pop any color scheme with it.
Here we have their new chair introduction but without the skirting. I love this classy style (in any of their fabrics!). But, for today, let's pop some of that color on these with one of these new stunning fabrics...perhaps this new release...
Here is the new "Chinese Chirpendale" fabric from the Tobi Fairley collection...absolutely stunning in my eyes...in any color!
Or how about this oversized Damask (also in the Tobi Fairley collection) in any of these scrumptious colors? Can you see that pair of white chairs now...in any one of these colors? I certainly can! These are definitely...a "Simply Irresistible" find.
Or...dash those neutral furnishings with just a pop of color from some Jonathon Adler pillows
! That's sure to turn your "drab" into "fab" in an instant.
"Mirror, mirror on the wall"...take a look at this lovely "Perched Bird" mirror with a heavily antiqued silver finish and burnished distressing. Why not add one to your decor?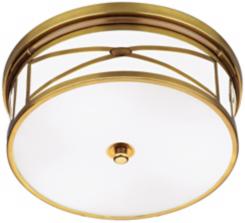 Is it simply time to change those out-of-date ceiling light fixtures...you know, the ones you have had there forever? What do you think of this style...how fashionable is that?
Now for the floors...which makes SUCH an impact to any area. This is one of the new introductions in a popular line we use quite often.
For those of you that enjoy browns and more muted shades of color, here's another new intro in our rug line. Isn't it stunning as well?
Here's a look at some great Robert Abbey gourd lamps we've been working with. They are available in many great colors that will go with most any color palette. At market, they even introduced 'lucite' bases...so now your base options are unlimited no matter what your taste. Let's admit...wouldn't a pair of these be "Simply Irresistible" with one of those new fabrics shown today...WOW! Or...how 'bout a pair of the blue gourd lamps with that last new rug in brown and blue? Oh, just one more thought...how about the red gourds sitting along side that white sofa combined with that new black-n-white area rug? A very classy look indeed!
Well, we thank you for stopping by today and hope you enjoyed seeing our mix of "finds" and that they, in some way, even inspired you to start thinking of ways to redecorate your surrounding. Remember, if you need the design plan so you can implement it yourself...just contact us or treat yourself to our full-service interior design. We always make it FUN, EASY, and AFFORDABLE at Alpha & Omega Interiors!
Have a blessed and "Simply Irresistible" week-end!
Photo Credits: Lee Industries, Nourison, Robert Abbey, Uttermost, Tobi Fairley, Jonathon Adler
*I TRY TO CREDIT ALL IMAGES, IF THERE ARE ANY PHOTOS OR IMAGES HERE THAT ARE NOT CREDITED CORRECTLY OR YOU WISH THEM TO BE REMOVED, PLEASE LET ME KNOW AND I WILL GLADLY OBLIGE. THEY ARE BEING USED HERE FOR THE SOLE PURPOSE OF DISCUSSING INTERIOR DESIGN. THANK YOU!