I have a special treat for you today! I ran across this place on the Travel Channel actually and when I saw it I was incredibly intrigued by the concept. So today, I'm sharing this with you because I think you will be amazed. Take a peak first...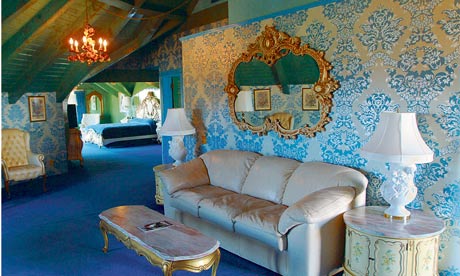 And this is just a little sample of the decorated theme rooms here that you can choose from. Where is this, you may ask...
It's the Madonna Inn, a landmark on the Central Coast of California.
The difference between this Inn and every other hotel in the world is that each of the 110 rooms provides guests with a unique experience, one that they will never forget. Rooms themed from a Honeymoon Suite with European style...to a Merry-Go-Round theme...to a Floral Fantasy...to an all rock room with a waterfall shower...and the list goes on and on. It is amazingly creative! Each room is themed and decorated with such attention to detail.
Head on over to their site HERE and take a look for yourself. I think you'll enjoy checking out each room...I did. Who knows, if I ever make it out to California, this just might be where I'll have to stay...but, how in the world would I ever choose which room I'd want to stay in...oh I know...
a PINK one!!
(and this is only one of many pink rooms)
Have a "Simply Irresistible" Day!
Photo Credits: madonnainn.com
*I TRY TO CREDIT ALL IMAGES, IF THERE ARE ANY PHOTOS OR IMAGES HERE THAT ARE NOT CREDITED CORRECTLY OR YOU WISH THEM TO BE REMOVED, PLEASE LET ME KNOW AND I WILL GLADLY OBLIGE. THEY ARE BEING USED HERE FOR THE SOLE PURPOSE OF DISCUSSING INTERIOR DESIGN. THANK YOU!