Happy Saturday! Tell me, do you get time on Saturday mornings to 'blog-hop' a little? That's when I usually have a little extra time for this. A hot cup of coffee
(or two!)
and blog reading...who could ask for more to start off the weekend right!
This is surely to wake you up! Does it? How do you like this color combo? These chairs are sort of a greenish chartreuse. I'm not too sure it would be for ME, but you know what, I think it's a really striking room. What about YOU?
Now THIS...I could live with. Maybe it's just that it's a bright color paired with PINK
(meaning anything that goes along with pink is alright with me!!)
. However, it may just be that the accent color here leans a little more towards the 'yellow/gold' tones...which is right up my alley!
How about this lovely color combo...like? I believe I could go for this
(except for that pop of red in the corner that I'd need to remove! That's just me though.)
I'm also obsessing thinking
(with my overly analytical brain people!)
about the fact that I'd probably make these side chair backs slightly higher (taller) so they'd 'feel' larger with the scale of this room, the size of the wingback chairs, size of table, and size of chandelier. Is it just ME...or do these side chairs really 'feel' tiny??? Lovely room though! We can all have our opinions right?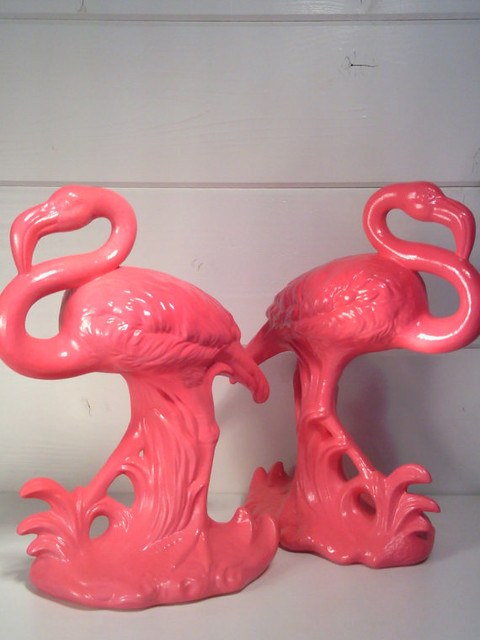 Oh my! These lovelies are just thrown in here today because I'd LOVE to find a pair of flamingos like this. I need these! Now I'll surely be 'on the hunt'!
I don't 'do' green very well, but I do really love the feel of this room here too. The color on the ceiling really helps pull this space together and feel more cozy.
How about color on the floor! What an awesome rug...could you brighten up a spot in your own home with something like this?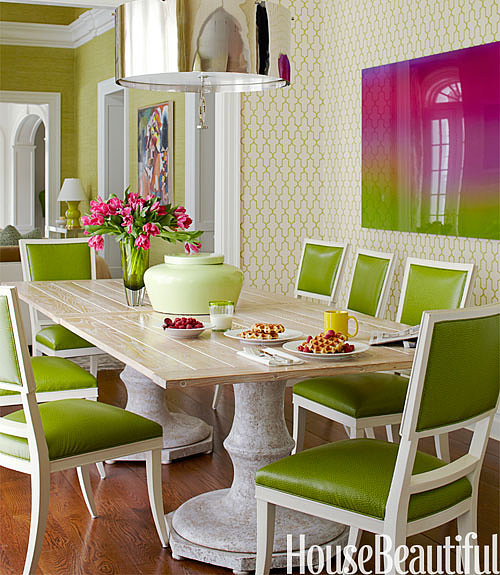 Here is another room that would brighten any day...and wake you up. Lovely! I love this table too.
Bright fun colors...with a classic silver tea service...LOVE it!
I promise this isn't on here just because it's PINK...Ok! Even without a nice pop of color THIS would indeed wake you up too! This is the Pantone/Pulitzer Room...what do YOU think? Could you use this method in a room?
Now I'm going to admit something to the world
(or just you readers out there!)
...I have been obsessing lately over...ZEBRAS! I have no clue why or how for that matter. Not sure if it's just the strikingness
(is that even a word - don't think so - but you know what I'm saying)
of them with the black and white, or what? I am trying my best to put a painting of a zebra in my son's bedroom or his home-office
(yes, he has a home-office too)
...but he keeps telling me "It's just not my thing, Mom"...so, I leave it at that. Today I ran across these with COLOR! What do YOU think...pretty...or is plain black and white better? Hum!
Living Room by Juan Pablo Molyneaux
And this mix of color...what are YOUR thoughts? I think I like the twist of traditional in this room paired with that artwork between those mirrors. Could YOU mix styles like this? Very tastefully done...Kudos!
Well, my Saturday morning ramblings have been long enough I do believe...especially considering I have yet to shower and do my hair
(I know, too much personal info, right - Ha!),
have a design appointment with a client in just a couple hours...and dinner with a group of friends at 4:30
(early because we will stay for HOURS talking I'm sure!).
What are YOUR plans for today?
Have a "Simply Irresistible" Saturday!
Image Credits: HGTV, Lonny, Houzz, Tradtional Home, Safavieh at Home Depot, Apartment Therapy, Architectural Digest, and others noted on image.
*I TRY TO CREDIT ALL IMAGES, IF THERE ARE ANY PHOTOS OR IMAGES HERE THAT ARE NOT CREDITED CORRECTLY OR YOU WISH THEM TO BE REMOVED, PLEASE LET ME KNOW AND I WILL GLADLY OBLIGE. THEY ARE BEING USED HERE FOR THE SOLE PURPOSE OF DISCUSSING INTERIOR DESIGN. THANK YOU!