OK dear readers...everywhere I go, I see white pumpkins this year...how about YOU? Have they caught your eye yet? They certainly have mine, mostly because I "don't do orange"! I know that probably sounds crazy, but it's just not "me". So, yes, these white little (and big!) pumpkins seem to be just what I need this year in my fall decorating projects.
Mini white pumpkins and berries...LOVE this idea!
Or...KISS..."keep it so simple"...like this!
You know I love this idea to snazzy up these little pumpkins with ribbon...and a bit of berries or nature.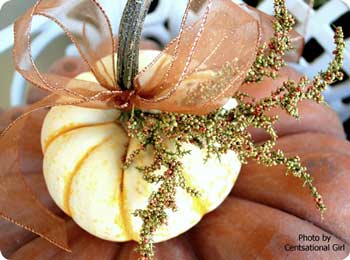 I perhaps have posted this photo before, but now is a great time to start looking for leaves with changing colors. What a great way (easy and inexpensive) to add a little fall color inside your home!
And then there was THIS...
A decoupage toile pumpkin...now "this" is classy folks! Have any of YOU tackled this project before? Is it complicated...or fairly simple? We'd love to know your secrets!
That's it for today my friends...just a few inspiration photos to get you in the mood for your fall decorating...you know it's TIME, right?
Have a "Simply Irresistible" Day!
Image Credits: BHG, Pinterest, Best Home Decorators, Censational Girl
*I TRY TO CREDIT ALL IMAGES, IF THERE ARE ANY PHOTOS OR IMAGES HERE THAT ARE NOT CREDITED CORRECTLY OR YOU WISH THEM TO BE REMOVED, PLEASE LET ME KNOW AND I WILL GLADLY OBLIGE. THEY ARE BEING USED HERE FOR THE SOLE PURPOSE OF DISCUSSING INTERIOR DESIGN. THANK YOU!