Don't you just love these cool mornings! I certainly do! I now can enjoy my early cup of morning coffee out on the front porch. Yippee! Seasons change...and when that happens it's also time to make some decor changes, wouldn't you agree? And...the front porch is a great place to start.
I know this isn't a front door...but it's a wreath I found that I really like since it has some red tones in it and less orange. For me, I tend to lean more towards the reds and golds for Fall, but I do like other colors too. This wreath, or a similar one, would be a great way to welcome your guests at the front door...don't you think?
Then I have found these wonderful Fall colored outdoor pillows (here) for the front porch chairs. Aren't they lovely with this wreath?
And here's a look at these Harvest Bouquet pillows on a deck...with a lovely gold throw. I'd say these looks would definitely welcome in Fall...and your guests...how about you?
And it's always nice to add in a couple topiaries in decorative planters...if you have the space for them on the porch by the door.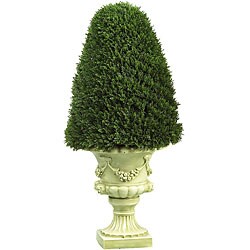 Do you have any Fall ideas for YOUR outdoor entrances? Be sure to update these areas and incorporate your favorite Fall colors. Oh, and keep in mind, it's also a great time to brighten up your doors with a fresh coat of paint if needed! Fall is definitely "in the air"!
Have a "Simply Irresistible" Day!
Photo Credits: Country Home, Pottery Barn, Overstock.com