Second post of this...don't know what happened in the first one with the preview of that rug we had been playing with (yes, playing with!), Anyway, THIS is the post you should have received...without a rug for now. Sorry about that!
Welcome back for our Day 2 of designing a room around some of our new fabric releases that are bright, bold, and beautiful for sure. Ok, we talked about adding in the "bones" of the room first, right? Well, the truth is, no matter what intentions we have when designing a room we usually end up finding something that strikes our fancy and we want to take it home and try it, right? Come on, admit it...you do this too!
In order to show how we/you sometimes interject something into our room design before it is really ready for it...we are doing this today. Along the way, in our design, we will see if we indeed keep our "find" or take them back. Hopefully, they will be a keeper! Ready...?
Let's first of all add in another one of those new fabrics we showed you before we began...
This will add even more boldness to that sofa and works so well with the print fabric we already have on the pillows...how about just one more pillow on the sofa, in this one? Can you handle this much color? Oh yea, for the upcoming summer months, who couldn't!
OK, now for our splurge...the stuff we find along the way that we just can't wait to "try"...two lamps by Robert Abbey! They seem to maybe be the perfect color for the room...and even though we don't have the entire detailed plan laid out yet...well, we can't resist, right? Let's take them home and try them out...shall we?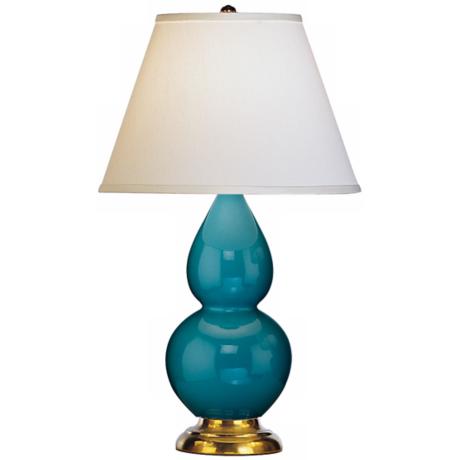 Aren't they lovely? Do we want this peacock blue, instead of ivory or orange lamps? Hum...let's just see what we think with what we have going on in this room so far...
What do YOU think? Come on now, participate in this "Design-A-Room" process if you want to...after all, we want to help YOU learn how to build a room design for yourself
(in any color or style)
or at least make it a little easier for you. What do you think so far? Are they "keepers"...let's say yes, for now anyway! I like them!
Stay tuned for the next part in this process...hope you are enjoying it along the way!
Have a blessed and "Simply Irresistible" Day!