I hope each of you enjoyed your weekend...bet most of you spent it decorating for Christmas. We did! The outside is now adorned with lots of window wreaths, most of the shrubs now have sparkling lights on them...garland and bows on the front porch banister...Whew! So glad that is all done!
Do any of you ever struggle with what to do with all of those Christmas cards you get? I know I do. I find one place to display them...usually by just standing the FIRST one up on my kitchen counter somewhere (tacky, right!!). Then, as more arrive, I find myself moving them around or getting out a large decorative bowl (not real deep) to lay them in. I now have another "plan"
(assuming I get it done!).
Isn't this lovely? What a great way to show off those special cards! Here, some small ornaments were added as well, but you could just leave the garland plain.
And, if you don't want to go all the way down to the floor with it, you can just swag the garland over the top and down the sides as far as one piece will go. I wonder if TWO garlands were used here?
Here is yet another way that I thought was very pretty...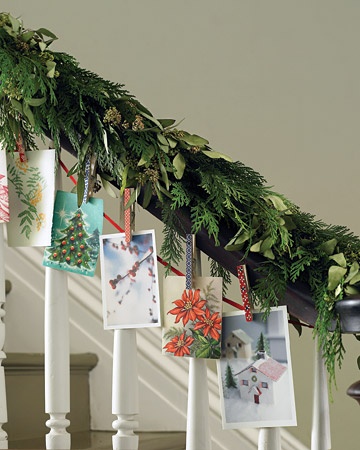 If you have stairs then this is a great way to showcase the cards...don't ya think? Oh, and if you have garland that looks a little "cheap" then you can always add in some real greenery to perk it up a bit. This greenery here is gorgeous! Check out these painted clothespins they used to clip the cards...neat idea!
How do YOU usually display your Christmas cards? Do you have any really unique ways of doing it? If so, we'd love to know!
Have a "Simply Irresistible" Day!
Image Credits: Pinterest, Martha Stewart
*I TRY TO CREDIT ALL IMAGES, IF THERE ARE ANY PHOTOS OR IMAGES HERE THAT ARE NOT CREDITED CORRECTLY OR YOU WISH THEM TO BE REMOVED, PLEASE LET ME KNOW AND I WILL GLADLY OBLIGE. THEY ARE BEING USED HERE FOR THE SOLE PURPOSE OF DISCUSSING INTERIOR DESIGN. THANK YOU!