I have to admit it...I really do love the look of using furniture pieces in the bathrooms...as opposed to traditional cabinets. It gives the bathroom such a unique and inviting feeling vs...just a bathroom. You guys with me on this idea?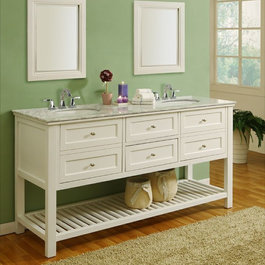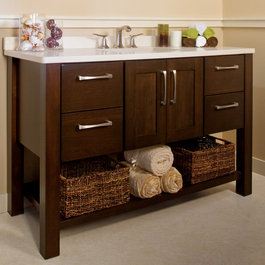 So now, are you on-board with this...or not? Do YOU have a piece of furniture in YOUR bathroom? If so, how did you use it...storage, sink. etc? We'd love to know!
Have a "Simply Irresistible" Day!
Image Credits: Houzz, House Beautiful, BHG, Pinterest
*I TRY TO CREDIT ALL IMAGES, IF THERE ARE ANY PHOTOS OR IMAGES HERE THAT ARE NOT CREDITED CORRECTLY OR YOU WISH THEM TO BE REMOVED, PLEASE LET ME KNOW AND I WILL GLADLY OBLIGE. THEY ARE BEING USED HERE FOR THE SOLE PURPOSE OF DISCUSSING INTERIOR DESIGN. THANK YOU!