Accordian Calendars
Write-on Wall Calendars
These calendars by 'Snow and Graham' display their signature designs for each month of the year, which makes it both practical and inspirational. The accordion one expands to over 30 inches long so you can see all of 2011 in one view with 12 unique designs. Then there is the write-on wall calendar, where beauty meets function with this grid style monthly calendar. Snow and Graham's calendars are printed in saturated colors on luxuriously thick stock in the USA. Be sure to check them out as they also have boxed cards, gift sets, wrapping paper, etc. (Available at

www.snowandgraham.com

)
Let's see...now take a look at our next find of the day...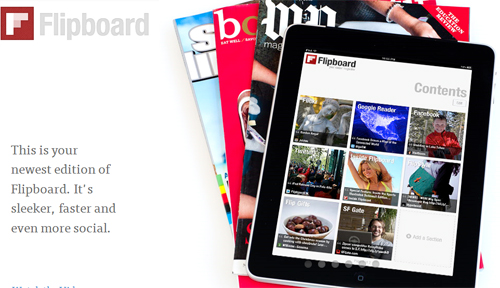 Are you into social media? Want to stay connected? Then check out the newest edition of this app for the ipad...the Flipboard. It was named Apple's ipad app of the year for 2010 and one of Time's top 50 innovations of 2010. This great app is a fast, easy way to flip through the news, photos and updates your friends have posted on Facebook, Twitter, Google Reader, Flickr, and Instagram. You can see your social media in a digital magazine layout that is easy to scan and lots of fun to read. It's customized and tailored to you with all your interests in one place. You are the "editor" of your own magazine...how irresistible is that? I must admit...I just may have to check this out for myself (being that I'm a bit 'behind' in all these hi-tech gadgets...but I'm getting there!).
Next, I found this to share...
This is a hand-made card that I also find "Simply Irresistible"! It was made by my dear friend of mine (and neighbor) who is now a PRO at scrap-booking (and once even said she knew she couldn't do this!). All of her work is truly amazing! Her card making is a ministry in itself as she is always thinking of others (no matter what the occasion, or just to encourage someone) and wanting to bless them with her cards that are truly made with "love". Believe me, I know personally the HOURS she puts into each one to make it extra special. I love the colors she has chosen for this one and it inspires ME to take a look at some rooms done in turquoise and black...I'll do that and share with all of you later! I'll also share this with you...guess what got me started with scrap-booking years ago? It was my passion for interior design! When I was introduced to it, I absolutely fell in love with 'mixing and matching' colors, patterns, and the coordinating of embellishments to go with them...sounds just like interior design, doesn't it? Not to mention that I had lots of pictures that I needed (and wanted) to do something with. Even today, I love creating (or seeing what Tammy creates!) amazing designs in many colors, textures, and styles. It's really like creating our design inspiration boards...and that much fun too! Be sure to visit her blog to see more of her work (scrapbook pages too, not just cards) at

www.ncscrapaddict.blogspot.com

. Thanks, Tammy, for giving me permission to post some of your work on our "Irresistible" Friday Finds!
Wishing each of you a "Happy Week-end"!
Photo Credits: Snow and Graham, sexysocialmedia, Bright Bold and Beautiful, ncscrapaddict.blogspot.com.
*I TRY TO CREDIT ALL IMAGES, IF THERE ARE ANY PHOTOS OR IMAGES HERE THAT ARE NOT CREDITED
CORRECTLY OR YOU WISH THEM TO BE REMOVED, PLEASE LET ME KNOW AND I WILL GLADLY OBLIGE. THEY ARE BEING USED HERE FOR THE SOLE PURPOSE OF DISCUSSING INTERIOR DESIGN. THANK YOU!