Are you ready to "liven it up" a little with our "Wildcard Wednesday" color of the day? I surely do hope so because today's color choice is...Tangerine! Some magazines have even named it to be "one of Spring's hottest colors for 2011". Although tangerine is a very under-used color, it can be simply stunning with whites or creams. Remember, you can always introduce this amazing color one piece at a time...or all the way. Sit back and let's take a look!
One simple piece can brighten the entire area!
Look how stunning it is here with gray, which can be an otherwise drab color by itself.
Look how well it goes with other colors like yellow, green and even blue.
Now this would brighten anyone's day!
A game room done in tangerine.
Just a little "pop" is all it takes...gorgeous with this white!
Tangerine is many times used in tropical villas.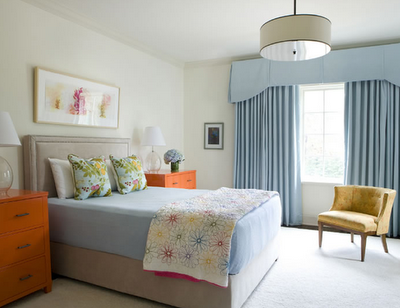 Simply lovely when paired with soft blues!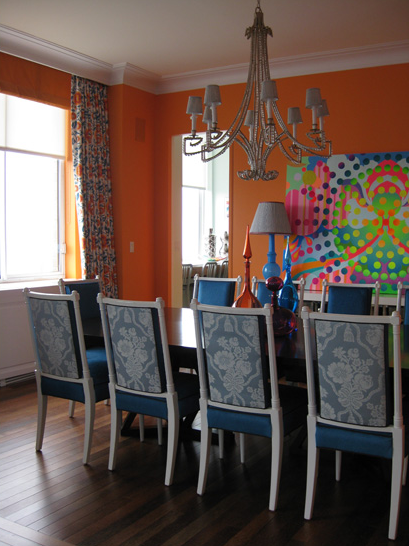 How about a little office nook with a splash of this wild and wonderful color?
Are you convinced now that tangerine is the color you need? Don't let the 'bad rap' of the 70's keep you from using it in your decorating now. Orange hues are considered bright and energetic, while some of the newest textiles are showing orange in color combinations and patterns that are much more sophisticated. There are tailored stripes combining tangerine with cream and gray, as well as graphic prints that combine this color with many other citrusy colors for a more "pop art" style. This delicious color can be worked into most any style there is.
One no-fail tip when decorating with tangerine is to put it with colors found beside it in nature itself. In the Spring, this may include fuchsia, lime green, persimmon, or even baby blue for a delightful flair of color. As we've said before, when using any bold color, be sure to use the right amount and the right intensity. Don't overdo it, especially if orange is not a 'fave' color of yours. Tangerine will certainly add a little freshness to your space...so why not give it a try!
Here's a sampling of a 'mood board' done in tangerine...
Compliments Tobi Fairley
So... as you go about your day trying to decide how you may introduce this color into your lifestyle and home...be sure to also make it a "Simply Irresistible" one. Ta-Ta!
Photo Credits: House Beautiful, Southern Accents, Tobi Fairley, Southern Living, Villas in Jamaica, myhomeideas, Traditional Home, HGTV, Coco+Kelley, Bright,Bold and Beautiful, Drake Design, Houzz LA.
*I TRY TO CREDIT ALL IMAGES, IF THERE ARE ANY PHOTOS OR IMAGES HERE THAT ARE NOT CREDITED CORRECTLY OR YOU WISH THEM TO BE REMOVED, PLEASE LET ME KNOW AND I WILL GLADLY OBLIGE. THEY ARE BEING USED HERE FOR THE SOLE PURPOSE OF DISCUSSING INTERIOR DESIGN. THANK YOU!