Just because it's Friday...and just because I am "on the run" today...I'll share with you my love of PALM TREES! Yes, palm trees! I love the look of them. I could sit for hours and just watch them blowing in the breeze and listen to the rustling of their branches! Crazy, huh? We can be driving anywhere coastal and as soon as I spot the first palm tree on our route...I feel like I'm already there.
I just love the look of these trees. I can't explain it really. Even their shadows are pretty, don't you think? Ha!Ha!
Whether on the beach...or in the yard...I absolutely LOVE palm trees!
And...to tie it into interior design...well, THAT my friends is simple!
Oh how it refreshes the indoors whether real or silk!
(I prefer silk as I don't have a "green thumb!")
It can even be a fabric design...with palm fronds. Isn't this gorgeous?
(Not to mention the entire room design..."
Simply irresistible
" indeed!)
Maybe it's as simple as artwork...that works for me too!
How about these swaying palm trees here...with wallpaper in a guest bathroom...ooh-la-la! Ok, now I am in heaven...if you know me, you will certainly understand this! Maybe I NEED "this" wallpaper...yep, I said NEED!!! Soon!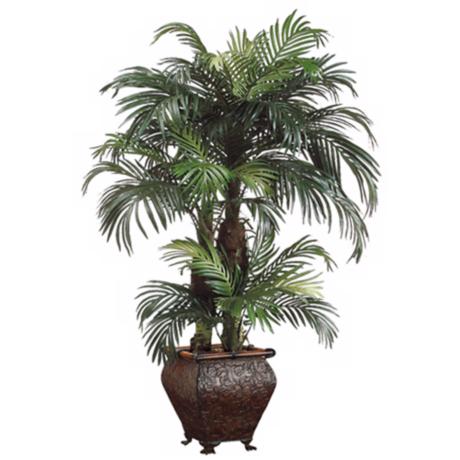 I was asked years ago..."Do you know how palm trees grow?
(real ones)
". Of course my dumb-founded look and answer was "No, how?". I was told..."Very, very slowly, but when they mature they are well able to withstand even the strongest of winds". So true and I do believe that is another reason I love them so. They sometimes endure a lot, yet they stand strong.
(Hum, I think there is a lesson to learn in that - the storms of life will come, but if we remain stable and and don't give up, we too will grow into strong "palm trees" and be well able to endure most anything that comes our way.)
Hope you enjoyed this little bit of ME again today.
Have a "Simply Irresistible" Friday!
Photo Credits: Saved in archive google images (if you know source, let me know for a mention!), House Beautiful, Attic Mag