Color...we all love color, right? Well, how do you feel about the Power of PINK...which is a color I absolutely love!
This would indeed be my ideal pink bedroom (ah! even pink palm trees on the walls!!)...paired with the crispness of white...good night dear readers....oh, OK - I'm not done yet!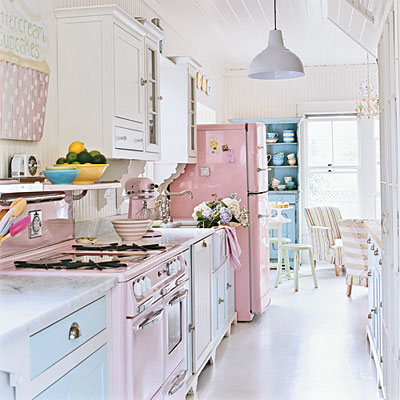 Now you will notice that on my days of Things I Love...you will NOT see...cooking! I like to cook
(OK I admit, only if I HAVE to!)
, but I certainly don't love it. However, a girl might could change her opinion about that if this were the kitchen...visions of PINK everywhere! Even the mixer...love it!
I just adore this splash of pink with this black and white...it's "Simply Irresistible" when paired together, I think. Not to mention all the other fun colors!
Even the pale pinks will do the trick for me...this is another yummy pairing of it with the crisp clean whites.
(I may just change rooms tonight....what do ya think? This one is tempting too!)
Even a pink ceiling will work...for me!
I'm liking all these pinks...everywhere...and check out those mats in these prints...I think I'll be having breakfast HERE in the morning!!
More of my "love"...you know, PINK!
It can pack a punch on the walls too...especially in this luscious shade here.
And more...enough, right?
And to sit here I'd need...
This, no doubt...in pink!
In keeping with the color, right! (Love this hobnob cake plate...did I mention I can "bake" - really, I can!)
Pink can pop a big "bang" for party time too...even paired with other colors! I LOVE these hot pink chairs...me want!!
Just beautiful...that's all.
PINK just puts the "happy" in most any place or thing...do YOU agree?
NEED I SAY MORE???
I love...PINK!
Have a "Simply Irresistible" Evening!
Coastal Living, Southern Living, Architectural Digest, Southern Accents, The Tea Room, House Beautiful, Eddie Ross, Traditional Home, The Lennox, ebay, Latest Fashion Trends, Amazon,